People whose civil rights have been violated by Nevada police may be able to sue for money damages, press criminal charges, and/or file a police misconduct report. Though many law enforcement officers behave ethically, sometimes they intentionally or mistakenly commit misconduct, including:
using excessive force,
allowing "K9" dogs to bite or maul suspects,
neglecting jail inmates' health,
falsely detaining or arresting people, and
profiling suspects based on race.
Whenever people may have had their civil rights denied by police, it is important they seek legal counsel to help them decide how best to proceed. An attorney can try not only to maximize their chances of receiving compensation but also to get the officers disciplined or possibly have their employment terminated.
In this article, our Nevada personal injury attorneys discuss:
1. Types of police misconduct in Nevada
Police misconduct occurs when law enforcement oversteps its bounds, violates rules, or breaks the law. Such behavior may be intentional or accidental, and it can happen anywhere, such as in a courthouse, a jail, a police station, a home, and out on the street.
There are many possible reasons for police mistakes, including insufficient training, poor judgment, peer pressure, or prejudice. No matter the circumstances, officers may feel constrained by a "code of silence," where they refuse to tell on their colleagues as part of a "protect our own" mentality.
This section discusses various police misbehavior that may violate a person's civil rights.
1.1. Excessive physical force
Although police belts hold a gun, knife, taser, chemical spray, baton, and handcuffs, police are not permitted to touch people unnecessarily. Examples of excessive force include:
beating a suspect who has already been captured and subdued
sexual assault
an unconstitutional strip search
unreasonable use of restraints
pepper-spraying a peaceful protest
Police who may have applied excessive physical force out of revenge, anger, frustration, or merely ignorance may be liable in both civil and criminal court. Learn more in our articles on the unlawful use of deadly force by police and unlawful police shootings.
1.2. Police dog bites
Nevada police rely on dogs in their "K9" unit for various law enforcement purposes, including:
detecting narcotics
tracking suspects
detecting cadavers
detecting explosives
But police are not allowed to permit their dogs to bite or maul people unnecessarily. In Reno, a man received a $17,500 settlement when a police dog mauled him after he already surrendered.1 Learn more in our article on police dog bites.
1.3. Medical neglect in jail or prison
Jail and prison inmates are legally entitled to adequate medical care, including:
the dispensing of necessary medications (such as for diabetes, blood pressure, depression, etc.)
dental care
hospitalization when necessary
Inmates who are deprived of adequate medical care may be able to sue. Learn more in our article on medical neglect in Nevada jails and prisons.
1.4. False arrest or unlawful detention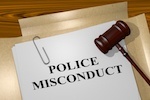 Detaining or placing someone under arrest is an enormous deprivation of one's freedom. Police are allowed to detain suspects to ask questions, but for no longer than necessary. And police may go through with an arrest only if they have probable cause to believe the person committed a crime.
People who were falsely arrested or unlawfully detained may have legal redress, and the officer may be disciplined, fired, or possibly prosecuted criminally. Learn more in our article on false imprisonment.
1.5. Racial profiling
A person's race or ethnicity is supposed to play no part in how law enforcement investigates, apprehends, or treats criminal suspects. Yet stories abound of African-American drivers getting pulled over and suspected of car-theft for no reason other than their race. And incarceration disproportionately affects people of color.
Victims of police racial profiling in Nevada may have legal recourse. Learn more in our article on racial profiling by police in Nevada.
1.6. Other police misconduct
Other types of conduct that police are prohibited from engaging in include:
coercing confessions
fabricating, planting, or tampering with evidence
false reporting or lying on the witness stand
intimidation, harassment, or corruption
improper firearm use
unlawful searches and seizures
Depending on the case, victims have a legal cause of action to sue. Furthermore, the offending officer may face criminal charges and termination of their employment.
2. Suing police for misconduct in Nevada
A victim may try to recover compensation for police misconduct by bringing a civil lawsuit against the individual officer(s) and/or the entire police agency (such as the Las Vegas Metropolitan Police Department). Victims typically pursue one or both of the following causes of actions:
civil tort claims
constitutional claims
When police officers or agencies are found liable under tort or constitutional claims, the court may order them to pay compensatory damages to the victim to help make up for the harm they suffered. Victims may also have the satisfaction of seeing the officials who have wronged them held accountable for their misconduct and abuse of power.
2.1. Civil tort claims
A tort is wrongdoing that one person commits against someone else. Torts are similar to crimes except that crimes are prosecuted by the state against the alleged criminal, whereas torts are prosecuted by individual persons against each other. Furthermore, only crimes — not torts — may carry prison time as a punishment. Common torts that victims sue law enforcement for include:
2.2. Constitutional claims
The United States Constitution spells out various fundamental rights American citizens share that may not be compromised without just cause. Two frequently litigated constitutional issues in police misconduct cases are:
The Fourth Amendment right to freedom from unreasonable searches and seizures. A violation occurs if the police conduct an illegal search by defying proper arrest warrant and search warrant procedures.
The Eighth Amendment right to freedom from cruel and unusual punishment. A violation occurs if the police subject the victim to unreasonable pain or torment while incarcerated.
Section 1983 of the United States Code offers victims a way to sue people who have seriously harmed them while acting under the "color of state law." In order to prevail on a Section 1983 claim, the victim has to show all of the following:
One of the victim's constitutional rights was violated,
The violation was perpetrated by someone acting under color of law (such as a police officer), and
The state agent who committed the violation was not immune from liability
Learn more about filing Section 1983 claims in Nevada. Note that if the police officer was a federal employee as opposed to a state or city officer, the victim would bring a suit similar to a Section 1983 claim called a "Bivens claim."2
3. Pressing criminal charges against police in Nevada
If the police misbehave to such an extent that their actions may qualify as criminal, then the victim may file a criminal complaint with the local district attorney's office. The D.A. would then decide whether to investigate and prosecute the matter. Typical offenses police may be charged with include:
If the officer pleads guilty or is found guilty, he/she may face prison, fines, and termination from his/her law enforcement job.
Note that in a criminal case, the victim would not be a "party" to the case — only the officer and the state of Nevada would be litigating against each other. Instead, the victim could serve as a witness and help the state with its case against the accused officer.
4. Filing a police misconduct report in Nevada
A misconduct complaint is not the same as filing a civil complaint or filing a police report. All a misconduct complaint does is allow the applicable review board to issue reports and recommendations to the sheriff, who then decides whether to take action and discipline the police.
Victims should consult with an attorney to help guide them through filing a police misconduct report in Nevada. Every jurisdiction has its own rules, and any missteps may compromise its chances of success.
No matter the location, anyone who may have been victim to or witnessed police misconduct in Nevada should immediately write down what happened in detail. This prevents important facts from being forgotten, which would weaken their case against the police. Ideally, the specifics should include the following:
the police officer's badge number
any witnesses to the misconduct
an in-depth narrative of exactly what happened when and where, including direct quotations
hospital records (if the misconduct included physical abuse)
photographs or video-recording of the abuse or its aftermath
4.1. Las Vegas
Victims or witnesses to police misconduct in Las Vegas may file a complaint with the Las Vegas Metropolitan Police Department Citizen Review Board. If the board believes the complaint is credible, they will forward it to Metro's Internal Affair's Division for an investigation. There are four ways to contact the Citizen Review Board in Las Vegas:
In Person: Go to the Citizen Review Board's Office at 310 South 3rd Street, Ste. 319, Las Vegas, NV 89101 anytime on Monday through Friday from 7:30 AM to 4:30 PM to fill out a complaint.
By Internet: Go to http://www.citizenreviewboard.com and click on the "complaint form" link. Then print out the complaint form, fill it out, and mail it to the above address.
By Phone: Call the Citizen Review Board at (702) 455-6322. They can give you instructions on how to fill out a complaint.
By E-mail: Email [email protected] to ask questions or express concerns to the Citizen Review Board.
Note that misconduct reports must be filed within one (1) year of the incident. But the time is tolled if there is an ongoing criminal investigation related to the matter. It is often best to wait until after all criminal and civil cases have been resolved so the victim does not reveal any potentially self-incriminating information. An attorney can help determine when a victim should file a report.
Depending on the case, an attorney may suggest that a victim sends copies of the misconduct complaint to the local ACLU and NAACP chapters. They may decide to use the case to bring attention to issues of police misconduct.
Is your case in California? See our article on police misconduct and civil rights violations in California.
Is your case in Colorado? See our article on police misconduct and civil rights violations in Colorado.
---
Legal References