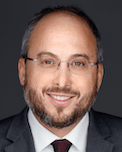 With twenty-three years in the courtroom, Las Vegas criminal defense lawyer Michael Becker will work aggressively to get your case dismissed or reduced to a lesser offense. And if your case cannot be resolved through negotiations, he has more than one hundred jury trials under his belt…
Among these are acquittals or dismissals in charges ranging from solicitation of prostitution to robbery, burglary, rape, child abuse, kidnapping, carjacking, mayhem and murder.
Even the Nevada Association of Public Safety Officers (NAPSO) relies on Michael Becker to defend its police officers when one of them gets charged with a crime.