The West Covina Jail…operated by and located within the
West Covina Police Department
…serves as a temporary holding facility for men and women who are arrested by the West Covina Police.
Arrestees are only held at this facility until they
Male defendants who must remain in jail…either because they can't post bail or because they have been convicted of their offense…will generally be transferred to a larger Los Angeles County jail such as the Los Angeles Twin Towers Jail, the Pitchess Detention Center, or the Los Angeles Men's Central Jail.  Female defendants will be transferred to the Century Regional Detention Facility.
In this article, our West Covina criminal defense attorneys1 will explain the following:
If, after reading this article, you would like more information, we invite you to contact us at Shouse Law Group.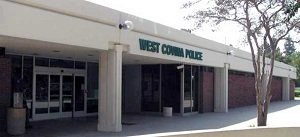 1. Procedures on How to Post Bail for an Inmate at the West Covina Jail
After an inmate has been booked into the West Covina Jail, his/her bail will be set according to the Los Angeles County Bail Schedule and based on the crime(s) for which the inmate was arrested.
"Bail" is the amount of money that is designed to assure the arresting agency and court that the defendant will make his/her court appearances after being released from jail.  Anyone can pay (or "post") bail on an inmate's behalf.
If you choose to post bail for an inmate, the West Covina Jail accepts three forms of bail: cash bail, cashier's checks and bail bonds, all of which are discussed in detail in our article "How to Post Bail in California".
You may post bail directly at the West Covina Police Station (where the jail is located) 24 hours a day / 7 days a week.
Free parking is available at the Police station.
1.1. Cash bail
If you elect to post cash bail, you must post the full amount.  Once you post cash bail, the inmate is released pending his/her arraignment.  If the inmate attends his/her court appearances, the bail will be returned following the conclusion of the criminal case.  If he/she does not, the defendant forfeits your money to the court.
1.2. Cashier's checks
Similar to cash bail, if you opt to use a cashier's check, you must post the entire bail amount.  The West Covina Jail only accepts certified California bank-drawn cashier's checks that are payable to the Citrus Superior Court.  Cashier's checks should include the inmate's full name and booking number.
And because the funds must be verified before the Jail will release an inmate, the inmate's release may take several hours or even a few days, depending on the time of day and whether the bail is posted on a weekday or a weekend.
1.3. Bail bonds
Posting a bail bond is the most common way to bail someone out of jail.  This is because you are only required to pay a maximum 10% of the total bail amount.
The downside is that bail bondsmen keep your 10% as their fee.  So if the defendant makes all of his/her court appearances, you pay nothing more, but you do not get that 10% back.  If the inmate doesn't make those appearances, you will be liable for repaying the entire bail amount to the bondsman.
Bail bondsmen advertise on the Internet and in the phone book.  Make sure you verify the bondsman's license, and keep copies of all documents for your records.
∗NOTE:  Once you post bail, you should immediately consult with one of our experienced West Covina criminal defense lawyers who can schedule a bail hearing to argue that the bail should be reduced or eliminated.   A skilled local attorney will also review the case to develop the most comprehensive legal defense to help your loved one fight his/her case.
2. How to Get Information about an Inmate at the West Covina Jail
In order to obtain information about an inmate at the West Covina Jail, you may
call the Jail directly at (626) 939-8550,
call the Los Angeles Sheriff's Department Inmate Information line at (213) 473-6100, or
access information via the web on the Los Angeles Sheriff's Department's inmate information website. ∗The L.A. Sheriff's Department provides information for all inmates in Los Angeles County.
Before a deputy will release information, you must provide the inmate's correct full legal name or his/her booking number.
Typically, inmates who are being held in custody must be arraigned within two (2) days of being arrested.  At that point, the judge will either continue the arraignment or will set the case for a pre-trial hearing.
If you wish to look up this type of case information for an inmate being housed at the West Covina Jail, visit the Los Angeles County case information website.
3. How to Contact an Inmate at the West Covina Jail
Inmates at the West Covina Jail are allowed to make three (3) free local telephone calls when they arrive at the facility to arrange for bail, inform family members as to their whereabouts and contact an attorney.
Thereafter, all calls must be placed on a collect basis.  If you know that a friend/family member is being held in the West Covina Jail, you may want to contact your local telephone carrier to make sure that collect calls are not blocked on your telephone plan.
Inmates are not allowed to receive incoming calls.  And because inmates are only temporarily housed at this facility, they are not there long enough to receive mail.
You may, however, personally visit an inmate at the Jail, provided that you comply with the facility's visiting hours and policies described below.
4. Visiting Hours and Policies
Visits at the West Covina Jail are limited to Saturdays and Sundays only.  Inmates are only allowed one adult visitor at a time. Children are not allowed at visitation.  Visits must be arranged ahead of time by calling the Jail directly at (626) 939-8550.
Attorneys are not bound by these restrictions and may visit an inmate 24 hours a day / 7 days per week.
All visitors must bring valid picture identification, such as
a California driver's license or identification card,
a U.S. Passport,
an alien registration card, or
a U.S. military card.
In addition, all visitors are subject to a search of their person and property.  Visitors may not bring anything illegal to the facility nor may they bring anything to the inmates.
∗∗∗A word of caution – anyone who has an outstanding warrant or is on probation or parole will not be allowed to visit an inmate and may be arrested on site.
The West Covina Police Department reserves the right to deny entry to anyone who poses a threat…either real or perceived…to the safety or security of the Jail staff or inmates.
5. The West Covina Jail's Procedures for the Return of Property
When an inmate is booked into the West Covina Jail, his/her belongings are collected and stored.  This property is returned to the inmate once he/she is released or transferred to a county jail.
Alternatively, an inmate may fill out a property release form designating another person to claim that property.  If an inmate has chosen you to pick up his/her property, you must bring a government issued I.D. (listed above under Section 4. Visiting Hours and Policies) to the West Covina Jail lobby 24 hours a day / 7 days a week.
There is no need to arrange this release ahead of time.  However, you may have to wait if the Jail staff is busy tending to other matters.
∗A final note – If an inmate is transferred to an L.A. County Jail, he/she will be housed in a more permanent location where he/she will likely be able to
place phone calls with a pre-paid calling card or pre-paid credit account,
send and receive mail, and
purchase items from a jail commissary, provided that you wish to help fund an "in-house" account (a process known as putting money "on the books").
If and when your loved one is transferred, we are available to provide you with more detailed inmate information with respect to the specific facility in which he/she has been housed.
Call us for help…
If you or loved one is charged with a crime and you are looking to hire an attorney for representation, we invite you to contact us at Shouse Law Group. We can provide a free consultation in office or by phone. We have local offices in Los Angeles, the San Fernando Valley, Pasadena, Long Beach, Orange County, Ventura, San Bernardino, Rancho Cucamonga, Riverside, San Diego, Sacramento, Oakland, San Francisco, San Jose and throughout California.
---
1Our West Covina criminal defense attorneys' offices are located at 100 N. Barranca Avenue, Suite 700, West Covina, CA 91791.  In addition, our Los Angeles criminal defense lawyers have local law offices in Beverly Hills, Burbank, Glendale, Lancaster, Long Beach, Los Angeles, Pasadena, Pomona, Torrance, and Whittier.