People harmed by commuter or freight train accidents in Nevada may be able to sue the carrier and other responsible parties for negligence. In many cases, our Las Vegas train accident attorneys can help you win sizeable compensatory damages to pay for their:
Train accident victims who partially caused their own injury may still be able to recover damages under Nevada's comparative negligence laws. And if the perpetrator of the train accident acted maliciously, victims can also make a claim for punitive damages.
In this article, our Nevada personal injury attorneys answer frequently-asked-questions about train accidents in Nevada, including negligence claims, statutes of limitations, and monetary settlements. Click on a topic to jump to that section:
Also read our related info page on Las Vegas truck accidents.
1. What can I do if I got injured by a train in Nevada?
Train accident victims may be able to sue the responsible party or parties for negligence. Victims who sue on negligence grounds have the burden to prove the following four elements: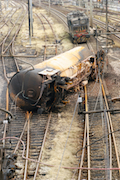 The defendant(s) owed the plaintiff (victim) a duty of care;
The defendant(s) breached this duty;
This breach caused the plaintiff's injury; and
This injury resulted in damages.1
Train accident victims are typically train passengers, railroad workers, or drivers or pedestrians that get hit at a railroad crossing or during a derailment. The government conducts an official investigation following every train accident, but personal injury attorneys may perform independent investigations as well.
1.1. Train accident causes
The bigger the vehicle, the more things that can go wrong. Just some of the causes of train accidents include the following:
poor maintenance,
derailment,
collisions with other trains, cars, cyclists, or pedestrians,
fatigued, distracted, or intoxicated train conductor,
cargo spills,
mechanical failure,
overloaded train cars, and/or
faulty signals, and/or
other violations of Federal Railroad Administration standards
Note that the Department of Transportation reports the majority of train accidents that result in injuries occur at railroad crossings.2
A derailed train, which weighs several tons, can cause fatal accidents even at modest speeds. People who survive often sustain fractures, lost limbs, brain injuries, burns, and spinal injuries.
2. What money can I recover?
Train accident victims may be able to recover compensatory damages for:
medical bills;
lost wages;
lost earning capacity;
pain and suffering (capped at $350,000), and/or
wrongful death (the estate of the deceased brings this kind of lawsuit)
(Note that government employees acting in the course of their job are liable for only $100,000.3)
Train injury victims may be able to recover punitive damages if the liable party intentionally caused the accident. Nevada caps punitive damages at:
$300,000 if the compensatory damages is less than $100,000, or
Three times (3) the compensatory damages if they amount to $100,000 or higher.4
Obviously, anyone who deliberately causes a train accident may be arrested and charged for a crime as well.
3. Who can I sue?
Depending on the circumstances of the case, train injury victims may be able to sue:
The train conductor;
The train company;
A pedestrian or vehicle driver who may have caused the train accident; and/or
Any third-party responsible for maintaining the train or track or improperly loading the train
Train accidents often involve several entities with different duties of responsibility over the train. It is common for plaintiffs to submit claims to several insurance policies and file multi-defendant lawsuits.
3.1. Nevada train companies
Currently the following carriers travel on Nevada's train tracks:
And Gabriel Willaman Railroad Construction fixes, inspects and maintains Nevada railroads.
4. How do I make sure I get paid if there are other victims?
Experienced personal injury attorneys are skilled in keeping their clients "at the front of the line" when collecting on claims. In some cases, the attorney may believe it is better to collect on a settlement quickly rather than pursue of a trial. In other cases, a trial may be the best chance to recover a hefty financial reward.
5. What if I was partially at fault?
Perhaps. If the case goes to trial, train accident victims who were 50% or less to blame are still eligible to recover damages. But the judge will reduce the financial reward proportionally to the victim's fault. So someone 10% at fault will receive 10% less money than if he/she was not at fault at all.5
5.1. Contributing to a train accident
There are various scenarios where a person may contribute to a train accident, including:
A pedestrian walking on a train track or trying to cross it when the train is coming;
A car crossing a train track when the train is coming;
A person trying to hop on or off a train while it is running;
A passenger fiddling with train equipment;
A passenger horsing around in the train car
When trying to determine degrees of fault, courts look at various evidence such surveillance video, medical records, eye-witnesses, and photos of the damage and train track conditions.
6. Is there a time window for bringing a claim?
Victims of train injuries in Nevada may bring a personal injury lawsuit within two (2) years of the accident.6
Call a Nevada personal injury attorney…
Were you injured by a train in Nevada? Our Las Vegas train accident attorneys want to help. Call us for a free consultation. In most cases we can win a very favorable financial settlement without going to trial. And we do not get paid unless we win your case.
---
Legal References: