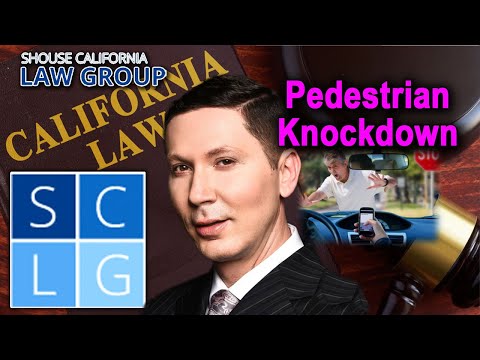 Statistics show that drivers are at fault in more than half of the pedestrian accidents in California, and are almost always at fault when a pedestrian is struck within a crosswalk.
Under California personal injury laws, anyone injured in a pedestrian accident can file a lawsuit against those who caused the accident. Typical damages include compensation for
Below, our Los Angeles pedestrian accident lawyers discuss the following frequently asked questions about pedestrian knockdown accident lawsuits in California:
If you have further questions after reading this article, we invite you to contact us at Shouse Law Group.
1. Can I sue after a pedestrian knock-down injury in California?
As a pedestrian, you can be knocked down because of:
Vehicles not yielding,
Bikes on the sidewalk,
Uncontrolled dogs,
Other pedestrians, or
Trip hazards.
If you were a pedestrian hit by a car, you may have a personal injury claim. You can seek compensation for your injuries by filing a personal injury lawsuit. If you are injured in a pedestrian accident in California, you may be able to recover damages for your:
Medical bills,
Lost wages, and
Pain and suffering
Even if you are not sure who is to blame for the accident, the negligence or recklessness of another person or property owner may mean they are liable for your injuries. Talk to your California pedestrian injury lawyers about who may be responsible for your accident so you can get compensation for your injuries.
Note that pain and suffering are a type of "non-economic damages" because it is difficult to calculate an exact dollar amount. In contrast, medical bills and lost wages are "economic damages" because it is easy to calculate a dollar amount by using medical bills and past pay stubs.
2. What can I do if I get injured by a car in California?
If you are hit by a car in a crosswalk, parking lot, or even in the road, you may be able to seek compensation through a personal injury lawsuit. Under California negligence laws, if you are injured by a negligent driver, the driver may be liable for any injuries caused by the accident.
To recover damages after an auto accident, you generally need to prove the driver was negligent. This involves showing:
That the driver owed you a duty of care;
The driver breached that duty of care through negligence; and
That the driver's negligence was a substantial factor in causing your injury or death.1
Drivers generally owe a duty of care to all pedestrians. Drivers also owe a duty to other drivers and cyclists on the road. Driver negligence can be demonstrated by
traffic violations,
distracted driving, or
other negligent actions.
One of the most common causes of vehicle/pedestrian accidents involves failure to yield the right-of-way to pedestrians. Under California Vehicle Code 21960 VC, drivers must yield the right-of-way to you in any marked crosswalk or at an intersection.2
Note that California Vehicle Code 21709 VC makes it illegal for motorists to drive in safety zones. These are areas set aside for pedestrians with no vehicular traffic. A driver who violates VC 21709 and thereby strikes you will almost certainly be held liable.
However, even if you were not in a crosswalk, the driver may still be responsible for the injury. Any driver's negligence that contributed to the accident could make the driver liable for the injuries. Other examples of driver negligence in pedestrian accidents could include:
Speeding
Failure to yield
Going around a stopped school bus
Running a stop sign
Hitting a driver in the break-down lane
Not giving enough room for pedestrians getting into a parked car
If you were hit by a vehicle in the street or in a crosswalk, you should speak to a personal injury lawyer before you talk to the driver's insurance company. The other driver's insurance company will usually try and get you to settle the claim for as little as possible.
Your lawyer will handle the insurance company to make sure you do not get taken advantage of.
3. What are common causes of pedestrian knockdown accidents in California?
Not all pedestrian accidents are caused by cars. There are a number of other accidents that could result in a pedestrian getting knocked to the ground, suffering serious injuries. Other common causes of pedestrian knockdown accidents in California can include:
Runners or joggers on the sidewalk
Other pedestrians distracted by their phones or listening to music
Unleashed or uncontrolled dogs
Biking on the sidewalk
Skateboarding on the sidewalk
Groups of people who won't move over on the sidewalk
City buses or trucks with large side mirrors that extend over the sidewalk
Passengers opening the doors of parked cars
Fights on the street
Kids running around a store or restaurant
Kids rough-housing at a pool
Crowded street fairs or festivals
Showing negligence in a pedestrian accident for any reason is similar to negligence in an accident with a car. You need to show another person was negligent in causing an accident, or violated California's pedestrian and crosswalk laws. This requires you to prove the following:
The defendant owed you a duty of care;
The defendant breached the duty of care through negligence; and
The defendant's negligence was a substantial factor in causing your injuries.3
3.1. Jogger on the sidewalk
Many people in California use the sidewalks for exercise to stay out of the busy street. Most of these runners are willing to share the sidewalk, but some are either reckless or inconsiderate and threaten to knock over pedestrians.
If a runner hits you, their speed and force could easily knock you over onto the ground or even into the street, causing injury.
3.2. Uncontrolled dog knocks someone over
Dog owners who do not have control of their pets can be liable for serious accidents. Large dogs can jump up on children, knocking them over. Dogs on the loose can also chase you, causing you to fall over and suffer an injury.
The dog may have caused the accident, but dog owners are responsible for their dogs' actions.
If a dog attacks or knocks you over, you generally need to show that the owner was negligent. This may require proving that the dog owner
knew or should have known the dog could be a threat to pedestrians and
failed to take reasonable steps to prevent harm.
However, if the dog owner is violating a state or local statute, any injury caused by the dog may make the owner liable under California's laws on "negligence per se." This could include having a dog off-leash in an area where dogs are prohibited or are required to be on a leash.4
Example: Will is walking along Palisades Park in Santa Monica. Carli's off-leash dog jumps on him, causing Will to fall and get injured. Since Carli violated Santa Monica Municipal Code 4.04.155 by keeping her dog off-leash, she could be liable to Will for negligence per se.
3.3. Biker on the sidewalk hits a pedestrian
For pedestrians, bicycles on the sidewalk may seem like a hazard. However, biking on the sidewalk is usually a city-by-city policy.
In some parts of California, biking on the sidewalk is a violation, while in other parts of the state, bicycling on the sidewalk is perfectly legal. However, if a cyclist is negligent in causing an accident, the cyclist may be liable for any injuries caused even if it is legal to bike on the sidewalk.
For example, under Los Angeles Municipal Code 56.15, biking on the sidewalk is legal, as long as it is not done
"with a willful or wanton disregard for the safety of persons or property."
If a cyclist was biking on the sidewalk and hit you, causing an accident, you may be able to recover damages by showing:
the cyclist was negligent in causing the accident, such as by riding too fast; or
the cyclist was biking with a "willful or wanton disregard for safety."
In areas where biking on the sidewalk is illegal by city or local statute, a cyclist on the sidewalk who causes an accident may be liable for negligence per se.
3.4. Groups of people who won't share the sidewalk
There may be no specific law about the right of way on the sidewalk. However, most of us are courteous enough to stay to the right or make room for people crossing in the other direction. Sometimes, young people trying to act tough or groups of obnoxious people may not yield to let you pass.
If a group of people knocks you over while on the sidewalk, they could be liable for any injuries that you suffer. It would be up to a jury to determine negligence.
If the jury found the group
failed to let you pass,
violated their duty of care, and
caused the accident,
you may be able to recover damages.
3.5. Bus or truck too close to the sidewalk
Buses and trucks have side mirrors that extend out beyond the edge of the vehicle. When a bus pulls up to a bus stop, the side mirror may be a hazard for anyone standing near the edge of the sidewalk. A bus pulling up to a bus stop could be going fast enough to knock you over, causing head injuries or other serious harm.
Bus drivers are trained in how to handle their vehicles and understand where the mirrors extend. If a bus driver is not paying attention or carelessly causes you to be hit by the bus mirror, you can file a lawsuit for damages.
When an accident is caused by an employee, such as a bus driver, you can also sue the employer. Under California's "Respondeat Superior" laws, an employer can be held vicariously liable for the negligence of their employees.5
4. Who is most at risk of a pedestrian knockdown injury?
Anyone who walks down the sidewalk, through a parking lot, or anywhere in public could be at risk of pedestrian injury. The injuries involved in a pedestrian knockdown accident depend on the cause and location of the accident, as well as the individual involved.
Even a simple fall can lead to serious head, neck, or back injuries. Common pedestrian injuries could include:
Cuts, bruises, and lacerations,
Broken bones,
Facial trauma,
Head, neck, or spinal injury,
Concussion,
Brain injury, and
Internal injuries.6
Anyone can be injured in a pedestrian accident. However, some people may be at greater risk for serious injury. Risk factors for serious or fatal pedestrian knockdown injuries include:
Children
Older adults
Use of alcohol
Urban areas
Non-intersections 7
5. What should I do after I get knocked over while walking in California?
If you are knocked over while walking in California, the most important thing to do is to seek medical attention if needed. If you are injured, call 9-1-1 or ask someone to call for you.
Do not assume that you are ok, even if you do not notice any obvious trauma. Even low-impact falls can result in head, neck, or back trauma. These injuries should be evaluated by a doctor.
Similar to individuals involved in a car accident, you may feel okay right after the accident. However, the next day you may wake up unable to get out of bed.
Brain and spinal cord injuries could be made worse if you delay going to the doctor. It is better to be safe than sorry after an accident.
After a pedestrian injury accident, you should gather as much information as possible, including:
The name and contact information of anyone involved;
If a vehicle was involved, the driver's name, driver's license, insurance information, and license plate of the car; and
Contact information of any witnesses.
If you have your phone or mobile device, it may be a good idea to take photos or videos of the accident scene and record the vehicle information. You may also want to take pictures of your injuries.
Do Not Admit Fault
Some people instinctively apologize after an accident. Unfortunately, the person who caused the accident can sometimes use your words of apology against you.
In a pedestrian injury lawsuit, the question of who is "at fault" is something to be decided by a jury. Do not admit fault, especially if are not sure who caused the accident.
You should consider contacting a California personal injury attorney after your pedestrian accident. Do not try and deal with the insurance company on your own.
Let your attorney handle questions from the insurance company about who is at fault and how you will be compensated.
6. Who is to blame if I tripped on a broken sidewalk in California?
When you trip and fall on a piece of broken sidewalk, icy surface, or another dangerous surface, the property owner may be liable for your injuries. Under California premises liability law, people who own or occupy property are required to keep the property in a reasonably safe condition.
Premises liability in California refers to a property owner's duty to keep their property in a reasonably safe condition, which includes sidewalks and areas where pedestrians may be.8 In most cases, in order to establish premises liability, you must prove:
The defendant owned, occupied, or controlled the property;
The defendant was negligent in the use or maintenance of the property;
You were harmed as a result; and
The defendant's negligence was a substantial factor in causing your harm.9
If the sidewalk is on city property, the city may be held liable in a slip and fall lawsuit brought by you. The town, county, or city may have known about the dangerous sidewalk conditions and failed to do anything about it.
Example: Jay is walking down the street and trips badly on a broken piece of concrete. It turns out that multiple complaints had been submitted to the city about that area of sidewalk. Because the city was aware of the hazard and failed to fix the broken sidewalk, the city may be liable for Jay's damages.
7. What damages are available in a California pedestrian knockdown accident lawsuit?
The damages available after a pedestrian knockdown accident may depend on the extent of the injuries and whether the victim was injured or died as a result of the accident.
In most pedestrian injury accidents, you can sue for compensatory damages. Compensatory damages are intended to put you back into the same position you would have been if the accident had not occurred. This includes financial compensation for:
Medical and hospital bills,
Counseling,
Occupational and physical therapy,
Lost earnings and wages,
Loss of consortium (of a spouse or registered domestic partner),10
Loss of limb,
Scarring or disfigurement, and
Pain and suffering.
"Loss of consortium" is the loss of the companionship, support, and intimacy between spouses or domestic partners. Damages for a loss of consortium claim are meant to compensate the victim's spouse or partner for the loss of companionship and intimate relations.
In some cases, you might be able to sue for punitive damages in California. Punitive damages are rare in personal injury cases in California.
In order to get punitive damages, you generally have to show the defendant acted with extreme or outrageous conduct. In a pedestrian knockdown accident, they may involve a driver intentionally trying to hit you.11
Example: Joe is driving and angrily runs over Blake's foot because he is walking too slow. Here, Blake could sue Joe not only for compensatory damages such as medical bills and lost wages. He could also sue for punitive damages since Joe acted with a disregard for Blake's safety by intentionally running over his foot.
Note that drivers are required to carry at least the following car insurance minimums under Insurance Code 11580.1b.
$15,000 for injury/death to one person.
$30,000 for injury/death to more than one person.
$5,000 for damage to property.
If your damages exceed what the at-fault party's insurance covers, you can sue for the difference.
8. What if the other person blames me for my fall?
Pedestrians, like drivers or cyclists, have a duty to use due care for their own safety. The driver may blame you for the accident if, for example, you were jaywalking.
However, just because you are not in the crosswalk does not necessarily mean the driver is not negligent. . 12
If a driver blames you for the accident, do not admit fault. Fault is not always very clear, especially if you do not know exactly what went on.
Admitting that you might have caused the accident could mean you will have to pay for
your own medical expenses and
the driver's damages as well.
Under California's "comparative fault" law, you can still recover damages if you were partly at fault for the accident. If more than one party shares in the fault for an accident, the jury can apportion fault and damages. This means that you may have your damages reduced based on your own level of fault.
Example: George runs out between two parked cars before looking for cars coming. Jerry tries to hit the brakes, but some fast food wrappers on the floor of his car get in the way.

George sustains $10,000 in damages from his injuries. The jury determines George is 40% at fault for not looking, and Jerry is 60% at fault because he did not brake in time. Therefore, the jury may award George $6,000 based on Jerry's 60% fault in the accident.
9. Who can sue if my child or spouse was killed in a pedestrian accident?
If your family member was killed in a pedestrian accident, you may be able to file a wrongful death lawsuit in California.13
A wrongful death lawsuit allows family members to seek damages after the death of a loved one to cover:
Burial and funeral expenses;
Financial earnings the deceased victim would have earned if they had survived; and
Compensation for the loss of companionship and support for the surviving family members.
Only certain people can file a wrongful death lawsuit in California. Surviving family members who can file a wrongful death lawsuit include:
A spouse;
A domestic partner;
Children;
Grandchildren (if the deceased victim's children are deceased); or
Anyone else who would be entitled to the property of the decedent by California intestate succession laws.
A "survival" cause of action is similar to a wrongful death lawsuit. Under California Code of Civil Procedure 377.30, a survival cause of action is brought on behalf of the victim's estate.
In a wrongful death case, you (the family) file for damages. In a survival action, the estate sues for damages for the losses suffered by the deceased victim from the wrongful act.14
10. How common are pedestrian accidents in California?
Of all the states, California ranks one for pedestrian deaths.
In 2020, 958 pedestrians died in traffic accidents in California – this represents a 6% decrease from 2019.
Pedestrian fatalities amount to 25.6% of California traffic deaths. Nearly a quarter of pedestrian fatalities are from hit-and-run drivers.15
11. Do pedestrians always have right-of-way?
You have right of way when crossing at marked and unmarked crosswalks. Starting in 2023, jaywalking is no longer against the law as long as there is no immediate danger of a collision.
Note that if you are driving and see a pedestrian jaywalking, you are required to do what you can to safely avoid a collision such as slowing down or changing lanes. You always have a duty of care towards pedestrians and other drivers, even if they are breaking traffic laws.19
For questions about pedestrian accident injury lawsuits in California or to discuss your case confidentially with one of our skilled California car accident attorneys, do not hesitate to contact us at Shouse Law Group. Please see our page on pedestrian knockdown lawsuits in Nevada for cases in Nevada.
Our California personal injury attorneys have local law offices in and around Los Angeles, San Diego, Orange County, Riverside, San Bernardino, Ventura, San Jose, Oakland, the San Francisco Bay area, and several nearby cities.
---
Legal References:
See, for example, California Civil Jury Instructions ("CACI") 400. See also California Civil Code section 1714(a) ("Everyone is responsible, not only for the result of his or her willful acts, but also for an injury occasioned to another by his or her want of ordinary care or skill in the management of his or her property or person.")
California Vehicle Code 21950 VC, Pedestrians' Rights and Duties. ("(a) The driver of a vehicle shall yield the right-of-way to a pedestrian crossing the roadway within any marked crosswalk or within any unmarked crosswalk at an intersection, except as otherwise provided in this chapter.")
California Civil Code section 1714(a), see footnote 1 above.
Delfino v. Sloan, Superior Court of Contra Costa County, No. No. A059646. First Dist., Div. Five. Dec 13, 1993. ("We will hold, inter alia, that a local ordinance, penalizing an owner whose dog is allowed to roam public streets unleashed, is an animal control law enacted to protect public health and safety and imposes strict criminal liability, regardless of the absence or presence of mens rea in the dog owner; and that violation of such a regulatory law, which requires a given level of conduct and imposes liability on those who, regardless of intent, do not comply, is negligence per se.")
Perez v. Van Groningen & Sons, Inc. (1986) 41 Cal.3d 962, 967 ("Under the doctrine of respondeat superior, an employer is vicariously liable for his employee's torts committed within the scope of the employment.")
Pedestrian Injuries: Emergency Care Considerations. Bharath Chakravarthy, MD, Shahram Lotfipour, MD, MPH, and Federico E. Vaca, MD, MPH. Cal J. Emerg Med 2007 Feb; 8(1): 15-21.
Same. ("Age as a Risk Factor. Children, older adults and those of lower socioeconomic status are most vulnerable to being struck by a motor vehicle.")
California Civil Code section 1714(a), see footnote 1 above.
California Civil Jury Instructions (CACI) (2017) 1000. Premises Liability. Essential Factual Elements.
California Family Code 297.5 gives registered domestic partners the same legal rights and remedies as spouses.
California Vehicle Code 21950 VC, Pedestrians' Rights and Duties. ("(b)" This section does not relieve a pedestrian from the duty of using due care for his or her safety. No pedestrian may suddenly leave a curb or other place of safety and walk or run into the path of a vehicle that is so close as to constitute an immediate hazard. No pedestrian may unnecessarily stop or delay traffic while in a marked or unmarked crosswalk.")
California Code of Civil Procedure 377.60 ("A cause of action for the death of a person caused by the wrongful act or neglect of another may be asserted by any of the following persons or by the decedent's personal representative on their behalf: (a) The decedent's surviving spouse, domestic partner, children, and issue of deceased children, or, if there is no surviving issue of the decedent, the persons, including the surviving spouse or domestic partner, who would be entitled to the property of the decedent by intestate succession.")
Code of Civil Procedure 377.30
Erin Heft, Pedestrian deaths account for over 25% of all California traffic fatalities, officials say, KCRA (October 17, 2022). Pedestrian Safety, California Office of Traffic Safety (OTS). Sarah Polus, Pedestrian fatalities hit 4-decade high in 2021; CA recorded most, KTLA (). California Department of Public Health (CDPH), Traffic Safety Reports: Pedestrian Injuries in California.