Foreigners may get L-1 visas to work temporarily for their employer in California if they:
are managers, executives, or have specialized knowledge, and
worked abroad for their employer for at least one (1) year within the previous three (3) years.
Examples of companies that sponsor these foreign "intracompany transferees" to work in California on L-1 visas include Apple, Walt Disney, and Qualcomm.
L-1 visas are non-immigrant visas that last for up to seven (7) years. The visa holders' families may come with them to the U.S. on L-2 visas.
In this article, our California L-1 visa attorneys discuss temporary worker visas including application processes, costs, and time frames. Click on a question to jump directly to the question.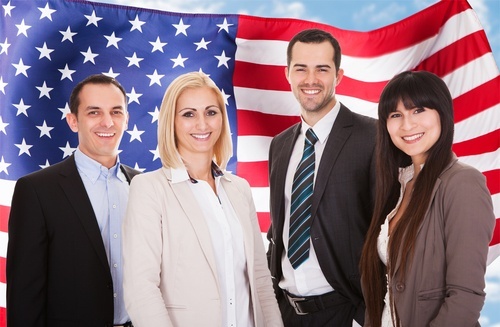 1. Am I eligible for an L-1 visa?
Both the U.S. employer and foreign employee have to meet certain requirements in order for the foreigner to receive an L-1 visa…
The first criterion is that the foreign employer and U.S.-based office are related as either:
parent and subsidiary,
sister companies,
branch and headquarters, or
affiliates
The second criterion is that the foreign employee must have been continuously employed abroad by the same employer for one (1) year within the last three (3) years.

Note that there are two types of L-1 visas available for employees of qualified foreign companies:
L-1A visas for employees in a managerial or executive capacity, and
L-1B visas for employees in a position requiring specialized knowledge.

2. What is the application process for L-1 visas?
First, the U.S. employer must obtain a labor certification from the Department of Labor (DOL) and file Form 1-129 with USCIS (U.S. Citizenship and Immigration Services). Only then may the non-citizen employee apply for the L-1 visa using Form DS-160.
The non-citizen employee will probably have to attend a visa interview with a consular officer and bring the following documentation:
passport;
Form DS-160 and payment receipt;
passport photo; and
possibly Form I-129S
3. What is the fee for L-1 visas?
Employers generally cover the cost of L-1 visas. The price is $190 for an L-1 visa. Note that there is a USCIS Fraud Prevention and Detection Fee of $500.
4. How long do L-1 visas last?
L-1A visas last a maximum of seven (7) years. L-1B visas last a maximum of five (5) years.
5. How soon can I get an L-1 visa?
If the USCIS already approved the U.S. employer for a "Blanket L Petition" (using Form I-129S), the L-1 visa can be issued in a matter of days. Otherwise, it typically takes up to four (4) months to get an L-1 visa.
6. Can my family come with me to California on an L-1 visa?
An L-1 visa holder's spouse and unmarried children under 21 can apply for L-2 visas to come to the U.S. as well.
Call a California immigration lawyer…
If you need an L-1 visa or other immigration help in California, phone for a free meeting with our California immigration attorneys.
Go to our California visa main page.
Learn about L-1 visas in Nevada.