Michael Becker, Esq.
Nevada DUI attorney Michael Becker has 27 years of experience in fighting drunk driving charges and saving our clients' driver's licenses. With a reputation among prosecutors for never backing down, Michael can usually achieve very favorable resolutions through negotiation alone. But he is also a seasoned trial attorney and has won several "not guilty" verdicts.
Michael received his J.D. from the University of Miami School of Law. He is also licensed to practice law in California, Colorado and Florida.
---
Neil Shouse, Esq.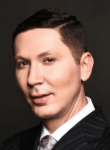 Harvard Law School alum Neil Shouse used to prosecute DUI cases as a deputy district attorney. Now he uses that inside knowledge of how "the other side" works to outsmart and outmaneuver the prosecutors at their own game. As a result, Neil can usually get charges for driving under the influence reduced to reckless driving or dropped completely.
Neil is also licensed to practice law in California.
---
Mike Castillo, Esq.
A Super Lawyer's Rising Star, Mike Castillo leaves no stone unturned when fighting drunk driving charges. He compiles and pores over all the available evidence, invariably finding instances where the police officers were sloppy or the chemical testing equipment failed. In many cases, Mike can persuade the D.A. to lessen or dismiss the charges without a trial.
Mike received his J.D. from UNLV Law School.
---
Alexander Vail, Esq. (Of Counsel)
Las Vegas drunk driving lawyer Alexander Vail represents immigrants and non-citizens facing DUI charges. Driving under the influence can be a deportable offense in certain cases, so Alex fights to get the charges cleared or reduced to a lesser charge that will not threaten our clients' resident status.
Alexander received his J.D. from the University of Miami School of Law.
---
Adam Solinger, Esq.
Las Vegas Defense Group attorney Adam Solinger practices DUI defense in Nevada. Adam has a lengthy track record of convincing prosecutors to drop or substantially lessen charges without a trial. Though if the situation calls for it, he is a seasoned courtroom litigator and is ready to argue for a full acquittal. Adam formerly worked as a lawyer with the Nevada Attorney General's Office.
---
Justin Berkman, Esq.
A graduate of Stanford University and William S. Boyd School of Law, Las Vegas criminal defense lawyer Justin Berkman devotes his practice to fighting for charge reductions and dismissals for our clients. He can typically win a favorable resolution through negotiations alone and no trials.
---
Daria Panoff, Esq.
Las Vegas DUI attorney Daria Panoff investigates each DUI case in search of any "weak links" in the state's evidence. Sometimes the police make mistakes or commit misconduct that will cause the judge to dismiss the entire charge.
Daria received her J.D. from UNLV Law School. Daria is also licensed to practice law in Wisconsin and Washington, D.C.
---
Investigator
Case Managers
Paralegals
Human Resources Manager
Client Liaison