Michael Becker, Esq.
Nevada DUI attorney Michael Becker has 27 years of experience in fighting drunk driving charges and saving our clients' driver's licenses. With a reputation among prosecutors for never backing down, Michael can usually achieve very favorable resolutions through negotiation alone. But he is also a seasoned trial attorney and has won several "not guilty" verdicts.
Michael received his J.D. from the University of Miami School of Law. He is also licensed to practice law in California, Colorado and Florida.
---
Neil Shouse, Esq.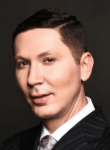 Harvard Law School alum Neil Shouse used to prosecute DUI cases as a deputy district attorney. Now he uses that inside knowledge of how "the other side" works to outsmart and outmaneuver the prosecutors at their own game. As a result, Neil can usually get charges for driving under the influence reduced to reckless driving or dropped completely.
Neil is also licensed to practice law in California.
---
Mike Castillo, Esq.
A Super Lawyer's Rising Star, Mike Castillo leaves no stone unturned when fighting drunk driving charges. He compiles and pores over all the available evidence, invariably finding instances where the police officers were sloppy or the chemical testing equipment failed. In many cases, Mike can persuade the D.A. to lessen or dismiss the charges without a trial.
Mike received his J.D. from UNLV Law School.
---
Alexander Vail, Esq. (Of Counsel)
Las Vegas drunk driving lawyer Alexander Vail represents immigrants and non-citizens facing DUI charges. Driving under the influence can be a deportable offense in certain cases, so Alex fights to get the charges cleared or reduced to a lesser charge that will not threaten our clients' resident status.
Alexander received his J.D. from the University of Miami School of Law.
---
Charles Goodwin, Esq.
Las Vegas drunk driving attorney Charles Goodwin (查尔斯古德温) examines each DUI case for every occasion the police may have given inaccurate field sobriety test instructions, mishandled the breathalyzer, or contaminated blood test results. These instances raise a reasonable doubt as to the defendant's guilt, which then may prompt the D.A. to reduce or drop the charges.
Charles received his J.D. from UNLV Law School. Charles speaks fluent Mandarin. 讲西班牙语。
---
Sophie Salcedo, Esq.
Nevada DUI defense attorney Sophie Salcedo has had great success in getting drunk driving charges reduced to reckless driving or dismissed altogether. Many defendants suffer from GERD, diabetes, or other medical conditions which may cause high blood alcohol levels or DUI-like symptoms – this could then serve as an effective defense to DUI charges and could help save the defendant's license.
Sophie received her J.D. from Emory Law School, where she was Regional President of the Law Student Division of the Hispanic National Bar Association.
---
Daria Panoff, Esq.
Las Vegas DUI attorney Daria Panoff investigates each DUI case in search of any "weak links" in the state's evidence. Sometimes the police make mistakes or commit misconduct that will cause the judge to dismiss the entire charge.
Daria received her J.D. from UNLV Law School. Daria is also licensed to practice law in Wisconsin and Washington, D.C.
---
Investigator
Las Vegas Defense Group is the only DUI defense firm with its own private investigator. A former police officer, Victor Vigna is an invaluable resource for finding key evidence to help win our DUI cases.
Case Managers
Our case management team includes Nancy Green, former chief of police Daniel Minor, and Erik Trolson, who has a criminal justice degree from UNR. Together they help keep our files organized while keeping our clients informed throughout their cases.
Paralegals
Our paralegal team includes Kiiya Rodgers, Bettina Almaden, and Christopher Joya as well as Spanish-speakers Claudia Gensler, Brenda Ruiz, who holds an associate degree in criminal justice from Everest College, and Sarah Llausas, who holds a Bachelor's Degree in criminal justice from Nevada State College. Together they help our attorneys keep our cases running smoothly.
Human Resources Manager
Native Spanish-speaker Beverly Martinez-Carvajal is always available to speak with our Latinx clients one-on-one about their DUI cases.
Client Liaison
When our attorneys are busy in DUI court, our client liaison Somphop Saranurak is there to communicate with our clients right away.