Posted on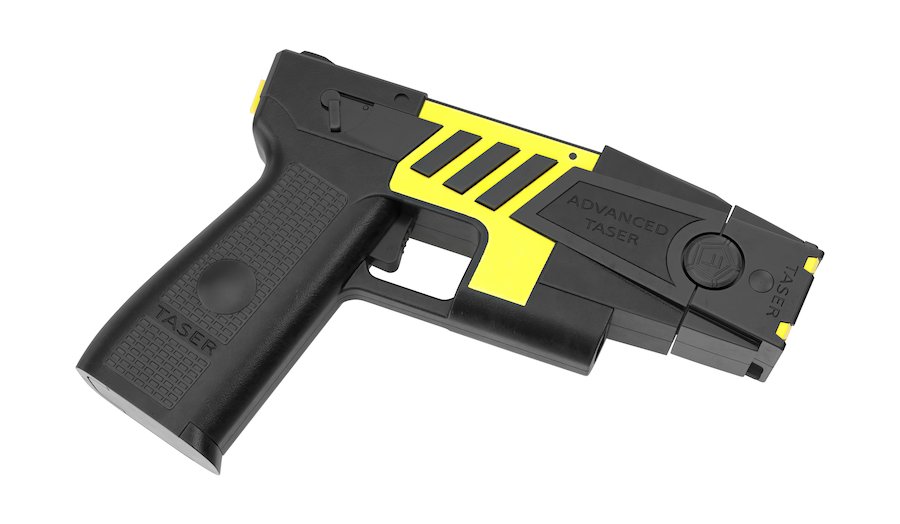 Both stun guns and Tasers ("remote stun guns") are legal to buy and possess in Arizona. But Taser dealers must abide by certain restrictions or face petty offense charges. And using a Taser against a law enforcement officer is a class 4 felony.
What is the difference between stun guns and tasers?
Both stun guns and Tasers emit electrical currents and are used to temporarily immobilize assailants. But stun guns work only by coming into direct contact with the assailant. Meanwhile, Tasers can be deployed from a distance through shooting probes to deliver the shock.
Tasers fit into Arizona's definition of remote stun guns:
Remote stun gun means an electronic device that emits an electrical charge and that is designed and primarily employed to incapacitate a person or animal either through contact with electrodes on the device itself or remotely through wired probes that are attached to the device or through a spark, plasma, ionization or other conductive means emitting from the device.1
What are the requirements for selling Tasers in Arizona?
Arizona permits the sale of authorized remote stun guns (Tasers) only if the following five conditions are met:
The Taser's electrical discharge is less than 100,000 volts and less than nine joules of energy per pulse;
All the projectiles discharged from the Taser have a serial or identification number;
The manufacturer offers a training program;
The buyer shows a government-issued ID to verify his/her identity; and
The Taser has an

identification and tracking system that, on deployment of remote electrodes, disperses coded material that is traceable to the purchaser through records that are kept by the manufacturer on all Tasers and all individual cartridges sold.
It is a petty offense in Arizona for commercial dealers (with the exception of secondary sellers) to sell a Taser without keeping an accurate sales record as to the identity of the purchaser with the Taser's manufacturer. This crime carries no jail. Instead, the court can impose fines of up to $300 for a person and up to $1,000 for an enterprise/business.2
Do I need a permit to carry a stun gun or Taser in Arizona?
No. Permits, registration, and licenses are not necessary in order to buy, own, or carry a stun gun or Taser in Arizona.
Is using a stun gun or Taser a crime in Arizona?
Using a stun gun or Taser in lawful self-defense is legal. Otherwise, electrically shocking someone without justification may result in misdemeanor assault (ARS 13-1203) charges. And if the defendant employed the weapon in a way that could cause serious bodily harm or death, then the D.A. may instead press felony aggravated assault (ARS 13-1204) charges.

It is always a class 4 felony to knowingly use – or threaten to use – a Taser against a law enforcement officer who is engaged in the performance of the officer's official duties. The presumptive sentence is 2 years and 6 months in Arizona State Prison, but it may be longer depending on the facts of the case and defendant's criminal history.3
---
Legal References
Arizona Revised Statutes 13-3117.
Same.
ARS 13-3117; ARS 13-701; ARS 13-704.